Enable desktop notifications
You can enable desktop notifications to alert you about new messages, mentions, and DMs.
To enable desktop notifications on a web browser, click the settings icon in the side navigation and select the "Notifications" tab. In the notifications settings page, select your desktop notifications preference and enable or disable sounds for notifications. After updating your preferences, scroll down to the bottom of the menu and click "Update".
Tips For first time users who wish to receive desktop notifications, please go to your Typetalk settings menu, choose the "Notifications" tab, click on the "Enable desktop notifications" button and select "allow" when the browser prompts to allow desktop notifications.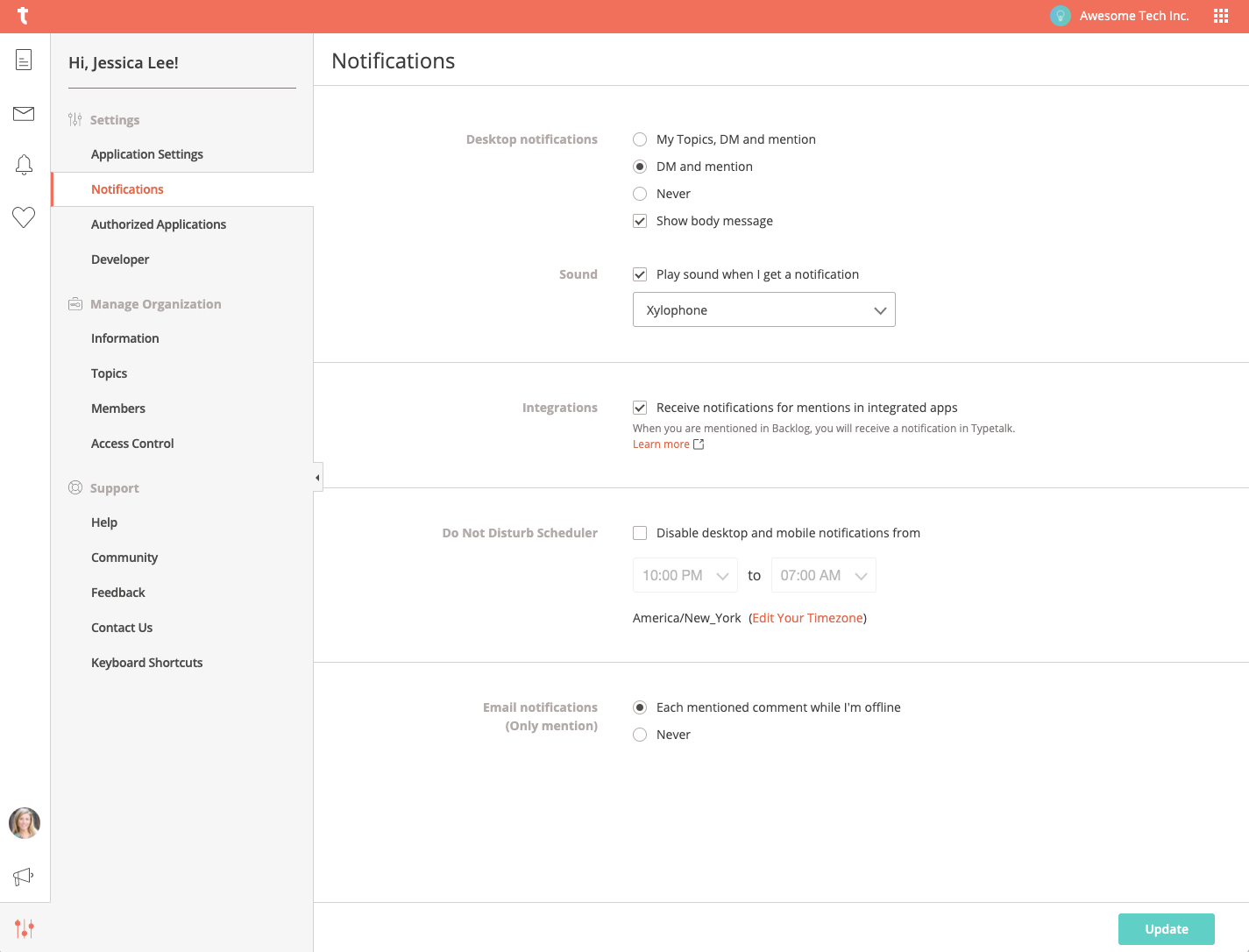 Desktop notifications
Select the type of desktop notifications you want to receive.
Type of desktop notifications
My Topics
You will be notified when there is a new message in the topic that has been added to the My Topics group. Learn more about My Topics.
DM
You will be notified when you receive a new direct message.
Mention
You will be notified when someone mentions you in the message (including @all or @here).
Show body message
You can choose to show the message body in the desktop notification. If this setting is turned on, you can see the text prompt in the desktop notification without opening it.
Play sound when you get a notification
You can select a notification sound to be played when using desktop notifications. While you are working on your tasks, the notification sound can help alert you to new messages.

To enable audio notifications, tick the checkbox for "Play sound when I get a notification" and select your desired notification sound from the dropdown menu.
Problem: I don't get desktop notifications
If you have desktop notifications enabled using a web browser but you still do not receive any notifications, see Troubleshooting Typetalk Desktop Notifications.